A4M Dubai is the first accredited educational entity in the Middle East region fully dedicated to the continuous professional development of medical doctors and healthcare practitioners in the rapidly growing field of anti-aging medicine.
Held in conjunction with A4M, MMI & the Institute of Medical Aesthetics in Dubai www.imadubai.com, the CME accredited Fellowship training modules, workshops and conferences are held on a regular basis to educate the medical community on popular anti-aging topics including: aesthetic medicine, cosmetic dermatology, cosmetic surgery, metabolic medicine & functional medicine. Led by Dr. Maria Angelo-Khattar and taught by a world-class panel of expert practitioners, researchers, authors and university professors from the US and worldwide, the programs provide unique access to American and International expertise locally in Dubai.
The training center and offices are located in Dubai healthcare city area offering easy access to the airport and the center of town.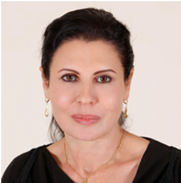 Dr. Maria Angelo-Khattar, M.D., Ph.D
Clinical Training Director