Why Attend A4M Events?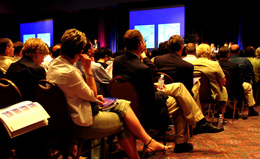 Embrace Anti-Aging Medicine
and Grow Your Practice
Don't miss out on
The Best Networking Opportunities
in the field of Anti-Aging, Regenerative,
and Functional Medicine!
Embrace Anti-Aging Medicine - the application of advanced biomedical technologies focused on the early detection, prevention, and treatment of aging-related disease
Find solutions to building your patient base and improving your practice
Join the $115 billion ++ annual anti-aging marketplace
Plan how your practice and company can claim its share of this enormous market potential
Become part of the elite core of this fast-growing medical specialty
Understand the anti-aging medical movement and how this exciting field offers a pro-active model for accessible, prevention-based healthcare for all
Attend the most prestigious and largest Anti-Aging events in the United States and abroad
A4M Events and Conferences are the only Anti-Aging Conferences and Exhibitions officially sanctioned and sponsored by the organization that created the anti-aging medical movement, the A4M.
MORE of What Delegates Want
A forum of educational exchange between the most-focused group of primary care physicians of any new and growing medical specialty of medical care
A scientific conference at which you will learn about the latest advances in anti-aging medicine from over thirty (30) renowned international speakers, delivering dozens of scientific papers over the period of the three (3) day conference.
An exposition at which innovative products in preventive health are showcased, and where direct contact with manufacturers and vendors can readily be established
World-renowned speakers, most influential scientists, and the best medical experts
Countless networking opportunities