Join the Anti-Aging Marketplace
Anti-Aging and Aesthetic Medicine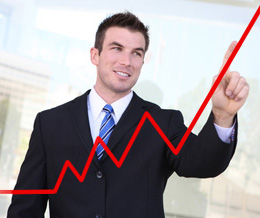 While the global population is aging at an unprecedented rate, Anti-Aging and Aesthetic Medicine has been developed as a healthcare concept offering solutions to extend the healthy lifespan of individuals. The science of Anti-Aging and Aesthetic Medicine is multidisciplinary with advances in the fields of biochemistry, biology, and physiology.
Anti-Aging Industry Statistics
Americans 50 years of age and older control 77% of the country's financial assets
Over the next 10 years, population growth will be driven by a decrease in mortality not an increase in birth rate.
Ninety million adult Americans use alternative medicine.
Botox was the number one cosmetic procedure performed with 2.8 million procedures, up 157% from 2002.
The consumer public has voted with their wallets overwhelmingly in favor of the anti-aging healthcare model. The anti-aging marketplace is one that is demographics-driven: people around the world are getting older.
About the Anti-Aging Market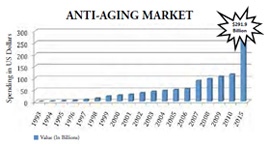 The opportunities in the Anti-Aging market are vast, with the global market estimated to be worth $292 billion by 2015. Furthermore, the proportion of the world's population aged 60 or over currently stands at 10%, but this figure is expected to more than double to 22% by 2050.
One of the World Health Organization's "ten global health targets for the 21st century" is "to achieve an increase in life expectancy and in the quality of life for all." It is predicted that, by the year 2029, advancements in stem cell research, therapeutic cloning, and nanotechnology will be harnessed into applications that improve and extend the human life span. In this manner, Anti-Aging Medicine is anticipated to have a profound and permanent impact on the future of preventative health care.
Fast Facts on the Anti-Aging Marketplace
The market with the highest projected AAGR is hormone replacement therapy, at 16.5%.
Global Nutraceuticals Market to Cross US $243 Billion By 2015 ( source )
In the US, the nutraceuticals market stands at $17.1 billion.
Sixty percent (60%) of Americans age 65+ are pursuing anti-aging interventions - including hormone replacement therapies and dietary supplementation.
Dietary supplement sales were $25 billion in 2010 ( source )
Thirty-three percent (33%) of adults take supplements on the specific advice of their doctor.
Lucrative Spinoff Industries Created by the Anti-Aging Marketplace
Prescription Drugs: $70 billion annually spent by the public on medicines prescribed for aging-related diseases.
Fifty-Plus Fitness and Spa: $400 billion and growing by 15% each year.
Cosmetic Procedures: $20 billion in plastic surgery and non-surgery skin treatments spent by men and women ages 35-50 last year.
Pain Management: $7 billion ($16 billion if including painkiller drugs) a year, this market is aimed at relieving Boomer-generation chronic pain.