Overview of ABAARM Certification Process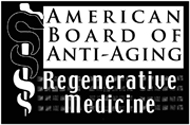 The American Board of Anti-Aging /Regenerative Medicine (ABAARM) is a certification program of the American Academy of Anti-Aging Medicine. ABAARM issues Board Certification to individuals with M.D., D.O., D.P.M. and M.B.B.S. degrees. Together, the A4M and ABAARM represent over 24,000 physicians from 110 nations in the new clinical specialty of Anti-Aging medicine.



The American Board of Anti-Aging / Regenerative Medicine was founded in 1997 as a
professional physician certification and review board for individuals with M.D. (Doctor of Medicine), D.O. (Doctor of Osteopathic Medicine), M.B.B.S. (Bachelor of Medicine/Bachelor of Science), or D.P.M. (Doctor of Podiatric Medicine) degrees. ABAARM offers these medical professionals with recognition of their specialty knowledge and clinical practice of Anti-Aging medical care. The long-term objective of ABAARM is to achieve formal sub-specialty recognition and a new status for Anti-Aging medicine and for those practicing it as qualified clinicians.
The ABAARM program consists of Part I (Written Examination) and Part II (Oral Examination). Typically, many examinees complete both steps within a year, but ABAARM permits a timeframe of up to two years to complete Part II after passing Part I. After taking the oral exam you have six months to complete the certification. A4M strongly recommends that all interested candidates sign up as far in advance of the examination date as possible. For ABAARM Part I, all candidates will benefit from permitting themselves with a maximum timeframe to review the study materials. A complete ABAARM study guide is available for purchase direct from A4M.
Part I. Written Examination
In ABAARM Part I, a three-hour multiple-choice written examination assesses proficiency in several areas of Anti-Aging clinical care, with a predominant focus on practical knowledge skills in diagnostic and therapeutic interventions, nutritional therapies, and pharmaceuticals, as well as sound textbook knowledge of endocrinology, neurophysiology, and cancer. After passing the exam, completing all requirements for Part I and receiving acknowledgement from the Board, a physician may refer to him/herself as a "Diplomate" in Anti-Aging medicine.
NOTE: ABAARM Written Exam is available in English, Spanish and Brazilian Portuguese.
Part II. Chart Review and Oral Examination
The Chart Review portion of Part II involves the submission of six (6) summary patient charts, which are then evaluated by ABAARM to determine the doctor's skills in utilizing Anti-Aging diagnostic and treatment interventions in their practices. They can be submitted either before or after the test.
In the Oral Examination portion of Part II, candidates are questioned by one or two oral examiners during an in-person, private exam interview. Each exam will be audio recorded for quality assurance. Generally, the oral exam takes typically 40 to 60 minutes and consists of one or two standardized mock cases and related clinical questions. After passing Part II and verification by ABAARM of completion of the physician's certification criteria, and receipt of signed certificate from the Board she/he may refer to her/himself as "Board Certified" in Anti-Aging medicine.
**To maintain ABAARM certification, you must continue active membership in good standing in A4M.**