ABAAHP Board Certification Benefits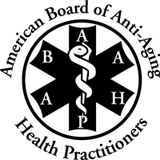 The A4M has created many avenues for you to incorporate Anti-Aging into your existing practice. A4M offers exclusive membership to all medical professionals where they gain access to over a decade of established Anti-Aging expertise. To further your knowledge base in clinical Anti-Aging medicine, A4M encourages you to become a Board Certified and Fellowship Trained Anti-Aging Physician or Health Practitioner.

It is imperative that you arm yourself with the proper credentials in this area of medical specialty. These credentials will clearly set you apart from all other physicians and practitioners who are practicing in this specialty without proper credentials. You will gain the knowledge that will allow you to be competent to practice in your area of medical specialty without any supervision at all and the training will allow you to add income to your income stream. Please contact me and ask how you can become an exclusive A4M Member, Board Certified Medical Professional and Fellowship Trained Physician in the FASTEST growing medical specialty.
Overview of ABAAHP Certification Process
The American Board of Anti-Aging Health Practitioners (ABAAHP) is a certification program of the American Academy of Anti-Aging Medicine. ABAAHP issues Diplomate Certification to Doctors of Chiropractic (DC), Doctors of Dentistry (DDS), Naturopathic Doctors (ND), Registered Pharmacists (R.Ph.), Scientists (PhD and similar), Registered Nurses (RN), Nurse Practitioners (NP), Physician Assistants (PA), Doctors of Pharmacy (PharmD) and Acupuncturists.

The American Board of Anti-Aging Health Practitioners was founded in 1999 to provide advanced education, representation, and specialty recognition of scientific and healthcare professionals. The long-term objective of ABAAHP is to achieve formal sub-specialty recognition and a new status for Anti-Aging medicine and for those practicing it as qualified clinicians. Together, the A4M and ABAAHP represent over 24,000 physicians, scientific and healthcare practitioners from 110 nations. The process involves the single step of a written examination, which demonstrates proficiency in several key areas of Anti-Aging medicine. After passing the written exam and completion of certification criteria, a certificate is issued to the healthcare practitioner confirming their status as a Diplomate of Anti-Aging Medicine.

A4M strongly recommends that all interested candidates sign up as far in advance of the examination date as possible. All ABAAHP examinees will benefit by a maximum timeframe during which you may familiarize yourself with study materials provided.

The ABAAHP program is the first certification program of its kind. It raises the standard of professional care and recognition offered by practitioners delivering integrative, complementary, and alternative healthcare as well as allied health professionals. By completing the ABAAHP process, you receive specialty certification as a Diplomate practicing Anti-Aging medicine.
ABAAHP Process
The ABAAHP written exam, a three-hour multiple-choice written examination assesses proficiency in several areas of Anti-Aging clinical care, with a predominant focus on practical knowledge skills in diagnostic and therapeutic interventions, nutritional therapies, and pharmaceuticals, as well as sound textbook knowledge of endocrinology, neurophysiology, and cancer. After passing the exam, completing all requirements and receiving acknowledgement from the Board, a health practitioner may refer to him/herself as a "Diplomate" in Anti-Aging medicine.