Frankfurt 2012 - How to effectively implement Bio-Identical Hormone Replacement Therapy
Course Description Top
This brand new workshop is a CME accredited practical 2-day program to help physicians deliver individualized hormonal and nutritional prescriptions aimed at optimizing patients' health. The comprehensive program will be exclusively taught by Dr. Pamela Smith (MD, USA) and will enable participants to identify and treat hormonal deficiencies using integrative, safe and advanced protocols. The workshop will present a unique individualized approach to patient management using Bio-Identical Hormone Replacement Therapy.
Case studies and audience participation will be featured in order to offer the frontline physician maximum exposure to real day to day situations.
Features:
Practical guidelines
Advanced protocols
Evidence based presentations
Case Studies
Audience participation
America's top BHRT expert: Dr Pamela Smith (MD)
This event is presented by the American Academy of Anti-Aging Medicine (A4M) and Arte Medica Dialog, Germany's academic association specialising in BHRT. Both organisations have been pioneers in the USA and in Germany to teach preventive therapies that optimize patient's health and energy with efficient and innovative protocols based on the use of bio-identical hormones.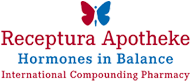 The workshop is sponsored by Receptura, a leading compounding pharmacy in Europe. This represents an opportunity for attendees to learn more about compounding services and formulations.
Learning Objectives Top
Review the impact of the age-related decline in hormones on the body and the occurrence of somatic age-related diseases.
Evaluate the skills required to diagnose and effectively treat hormone deficiencies in patients
Provide detailed references on the medical evidence on BHRT
Provide practical guidelines needed to merge BHRT into the physician's practice
At the end of this course, the participant will be able to:
Know how to diagnose hormone deficiencies and dysfunctions
Understand the impact of hormones on general health and energy
Discuss the complex interrelationships of many hormones
Know how to formulate customized balanced therapies for patients with hormone related diseases
Speakers Top

Featured Speaker
Pamela W. Smith MD, MPH
Pamela Wartian Smith, M.D., MPH spent her first twenty years of practice as an emergency room physician with the Detroit Medical Center. She is a diplomat of the Board of the American Academy of Anti-Aging Physicians and is an internationally known speaker and author on the subject of Metabolic, Anti-Aging and Functional Medicine. She has been featured on CNN, PBS, and other television channels, has been interviewed in numerous consumer magazines, and has hosted her own radio show. She is currently the Director of the Center for Healthy Living and Longevity and the founder and Director of The Fellowship in Metabolic, Anti-Aging and Functional Medicine. Dr. Smith is also the director of the Master's Program in Metabolic and Nutritional Medicine at the University of South Florida School of Medicine. She is the author of these best-selling books, "HRT: The Answers," "Vitamins Hype or Hope," "Demystifying Weight Loss," "What You Must Know About Vitamins, Minerals, Herbs & More," and "What You Must Know about Women's Hormones." Her newest book, "Why You Can't Lose Weight," was released in May of 2011.
Schedule Top
The program has been awarded 16 CME credits
Pre-Conference: Friday 19th of October 2012
| | | |
| --- | --- | --- |
| 2:00pm | Written Examination, American Board of Anti-Aging & Regenerative Medicine | 3 hrs |
BHRT Workshop, Day 1: Saturday 20th of October 2012
| | | |
| --- | --- | --- |
| 09:00am | What You Must Know About Women's Hormones | 2 hrs |
| 11:00am | Coffee Break | 0.5 hr |
| 11:30am | PMS/PCOS | 1 hr |
| 12:30pm | Lunch (Offered in the restaurant) | 1.5 hr |
| 14:00pm | Clinical Aspects of Thyroid Treatment and Case Histories | 2 hrs |
| 16:00pm | Coffee Break | 0.5 hr |
| 16:30pm | Male Hormone Replacement | 1 hr |
BHRT Workshop, Day 2: Sunday 21st of October 2012
| | | |
| --- | --- | --- |
| 9:00am | Hormones and Memory | 2 hrs |
| 11:00am | Coffee Break | 0.5 hr |
| 11:30am | Osteoporosis, Vitamin D and Vitamin K | 1.5 hr |
| 13:00pm | Lunch (Offered in the restaurant) | 1.5 hr |
| 14:30pm | A Metabolic Approach to Insulin Resistance and Diabetes | 1 hr |
| 15:30pm | Case Histories Nutrients | 1 hr |
| 16:30pm | Coffee Break | 0.5 hr |
| 17:00pm | Case Histories Minerals | 1 hr |
Registration Procedure Top
Registration for the BHRT Workshop can be done in one of the following ways:
Registration for the Board Exams can be done
online
.